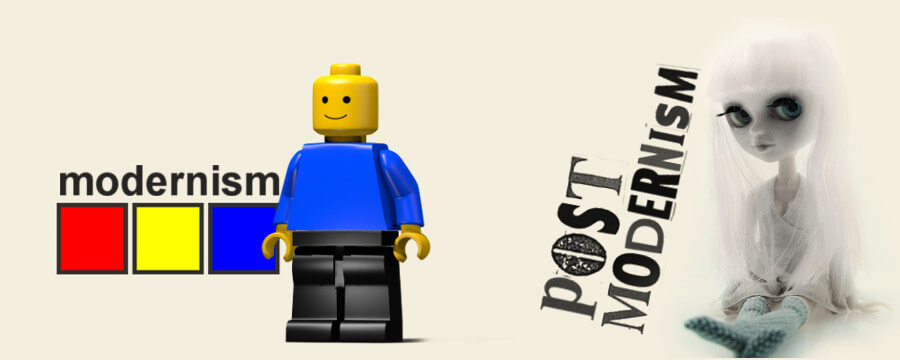 Why do we think like we do when designing?
A design typically consists of two layers: The functional and the aesthetic layer. When a product designer decides to add a handle to a cup it is a functional feature. If the designer chooses that the cup should be black it is an aesthetic quality. The designer uses the aesthetic layer to communicate or express emotions.
But with the breakthrough of modernism in the 20th century, fuctional design became an aesthetic quality in itself.
Web design is no exception to this. Using graphic elements to improve accessibility and readability would be designing the functional layer. The next step is to enhance the users emotional experience or perception. This might involve adding imagery, an emotional colour scheme or decorative elements. You would now be designing on the aesthetic layer. But before doing so you should ask yourself a question: Does the aesthetic layer always add quality to the product, or does the raw functional layer, in all its simplicity, possess a certain beauty?
Congratulations! You've just been introduced to two of the major concepts of Modernism: Rationalism and Minimalism.
Function and design
The flat minimalistic trend is currently dominating web and UI design, not only because it works on the functional level, but also because we perceive the functional design as aesthetic, or even beautiful.
If you don't believe me, just visit your local shopping center and see how many fashion brands you can find with a narrow Helvetica as the logotype. Helvetica was not designed to be stylish, but to be optimal for readability. Still we associate the type with elegance.
This is not new. Through the Modern and Postmodern eras, designers and artists have been constructing and deconstructing the aesthetics of rational and functional design. So if you thought the principles of todays web design was something new, you might want to continue reading about how movements of the last 150 years has influenced the way we think when we design.
Modernism (1870-1970)
1870
1900
1920
1940
1960
Postmodernism (1970-1990?)
Postmodernism is a major movement that replaces Modernist thinking during the 1970s. The movement denounces the absolute values, ideals and ideas about collective progress associated with Modernism. Many artists and designers reject the strict grids and analytic approaches but most importantly they question the whole idea that art should serve a purpose.
The Postmodern movement doesn't claim to have any answers or ideals. Instead the artists experiments with kitsch, irony and Mashup. Anything goes. The hip medium of the time, the LP album cover, becomes the preferred "canvas" for many of the progressive graphic designers.
1970
1980
2000